1 bulan berada di tempat lahirku sempena dengan cuti semester amatlah menakjubkan! Tapi malangnya, jangka masa 1 bulan itu tidaklah begitu cukup buatku. Tapi, alhamdulillah for at least dapat juga bercuti dan balik ke Kota Kinabalu, Sabah berjumpa dengan ayah dan mak dan keluarga serta kawan-kawan yang aku sayang.
For quick update, aku selamat mendarat di Kuala Lumpur pada 12 November lepas. Alhamdulillah, perjalanan pulangku selamat. Apa yang pasti, aku tetap merindui kk. Tidak pernah terlepas atau hilang rasa rindu tu.
Apa yang membuatkan aku rasa berat untuk tinggalkan kk? Apa yang aku enjoy semasa di sana? Jom baca serba sedikit cerita aku ni.
PULAU MANUKAN'S MOMENTS.
Terasa macam pelancong asing yang bercuti ke kk pulak rasanya. Merasai keindahan pulau ni, terasa agak bangga sikit menjadi anak kelahiran Sabah. Serious, memang cantik tempatnya. Kalau dapat luangkan lebih masa dekat sini, confirm lagi cantik rasanya. (Perhatian, ini bukanlah sesi mengangkat nama negeri, tapi luahan hati) ehem ehem
Apa yang penting, rasa macam nak tinggal je dekat pulau tu. Betul, tak tipu!
Yoyo, tak pernah buat aku kecewa semenjak aku berumur 16 tahun mulanya aku mengenali minuman ini. By the way, ini bukan yoyo yang main tarik lepas itu yer. The taste of it still the same and awesome. Kalau dekat KL, maybe chatime, or cool blog :)
Teringat zaman cafe yoyo ni jauh dari kawasan rumah. Sekali pergi cafe yoyo, ambik! Sampai 2 atau 3 bakul aku borong. Yang pasti, yoyo la peneman aku untuk breakfast, lunch dan dinner. Again, its #ohsem!
Another random photo of what i've bought from yoyo's cafe.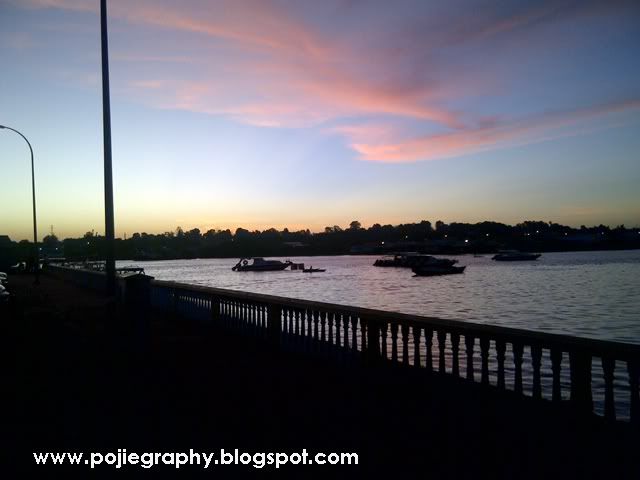 Suasana pada waktu senja, serious ini tidak boleh lupa. Para photographers akan memanggil saat ini sebagai ''golden hour' kerana saat inilah senang untuk kita memiliki gambar dan mendapatkan texture langit yang sangat menarik. Orang kata, time ni memang susah nak dapat dan ia hanyalah dalam jangka masa yang pendek dan cepat.
Yang ini diimport khas daripada wp Labuan. Untuk pengetahuan korang, kini Labuan berdiri sebagai negeri dah. Tidak lagi berada di bawah negeri Sabah. Well known as Wilayah Persekutuan Labuan. Korang kalau turun dekat Sabah, korang kena juga experience Labuan. This is a crucial for you guys to do.
Kepak ayam tebaik daripada KK! Serious ini terbaik dan lain daripada yang lain.
Its everywhere, memang sedap. Korang kena try, kalau dekat KL susah nak cari kepak ayam yang sehebat dekat KK. Ini bukan racism, but serious Kk's is the best!
Yang paling digemari,
Bakso KK. Sedap yang teramat. Ini juga terdapat dimana-mana tempat, tapi there's few places yang memang terbaik la. For example, dekat Asia City, Kota Kinabalu. Restoran Happy Muslim, haaa situ terbaik!
Makan sekali, memang nak lagi
Tak pernah rasa muak atau pun bosan makan bakso ni
Dear bakso kk, aku sayang kau sangat-sangat!
and some random photos yang aku sempat snap masa dekat KK. (banyak lagi, tapi gambar-gambar yang dalam entri ni aku snap guna my BlackBerry Smartphones /promote lagi/)
@Tanjung Aru Beach with Wan and Zul (At behind of me)
Harsh view of Tanjung Aru beach masa tengah hari. Kalau senja, mesti superb.
Great moments there for 1 month period. With family and friends. To mum and dad, thanks for everything. Rasa terhibur. To my sis, akak gorgeous tq belanja sikit sikit and to my little brother as well, Fareez. To my friends
Collin
,
Susanna
,
Natalie
,
Won
thanks for the short moments. To yang belum sempat, nanti jumpa lagi okay. Confirm ada rezeki. What ever it is,
KK always the best for me
. p/s : aku cinta kamu.
Regards, Pojiegraphy.
p/s : Alhamdulillah. Bersyukur dan Gembira dengan result untuk semester lepas.