Yeah, this entry is going to encourage you guys to stop asking people's addresses during this Raya festives. We're in a new era, with a excellent technologies. Much excellent. Orang bila dalam bulan ramadhan, buka fikir pasa baju/persiapan raya je. Diorang juga fikir macam mana nak hantar ucapan raya tu. Dulu, for sure pakai kad raya yang ayat-ayatnya ditulis secara manual. Banyak kelebihan menulis dan menghantar secara manual ni, tapi ada juga keburukannya.
Antara kekurangannya :-
1. Memakan masa untuk siapkan. Nak beli kad lagi, nak itu lagi, nak ini lagi.
2. Memerlukan kita untuk mendapat alamat rumah setiap orang.
Yeah, i have something to share you guys.
Atas tu bukan header ya kawan-kawan. Header pun boleh jadi juga sempena sambutan hari raya ni kan. But no, i designed it not as my header or else. Its my e-raya card. See, tokseh susah-susah nak cari kad yang menarik tertarik, kita sendiri boleh buat.
Senang, tak payah nak beli setem, tak payah susah-susah nak dapatkan alamat rumah kengkawan. Just design and get their email address or Facebook/blog. See, pagi raya nanti confirm semua sibuk dok tengok newsfeed dekat facebook and all. Ambil la chance untuk upload it malam raya ke. Sure orang akan nampak.
Want it? Okay let me show some tips/tutorial to design your own card with ur own creativity.
Requirements : Photoshop, Photoscape and your pictures.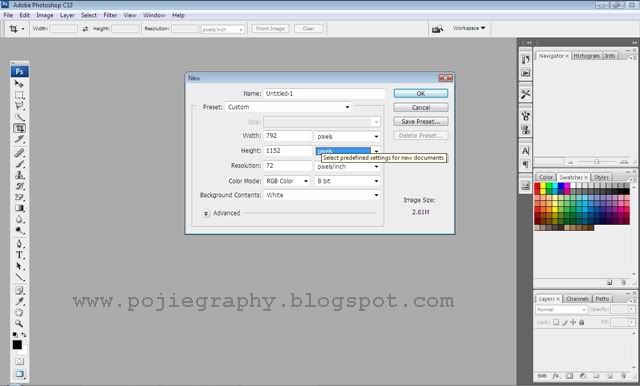 1. korang set la saiz kad yang korang nak. Make it in pixels, senang sikit korang nak ubah-ubah saiz and refer dekat internet. I choose my kad to be as landscape. So, lebar akan lebih daripada ketinggian gambar tersebut.
FILE - NEW - (CHOOSE YOUR SIZE)
See, its done.
2. Simple, just buat gradient color untuk gambar korang. Takyah susah-susah nak cari background or what. Make it simple, yang penting mesej kita dapat disampaikan kepada orang.
Click Gradient at the left tool bars and choose your colors.
and then choose your pictures yang korang nak masukkan dalam kad nanti.
Yeah, its mine. Terpaksa guna gambar sendiri. Maafkan aku yer.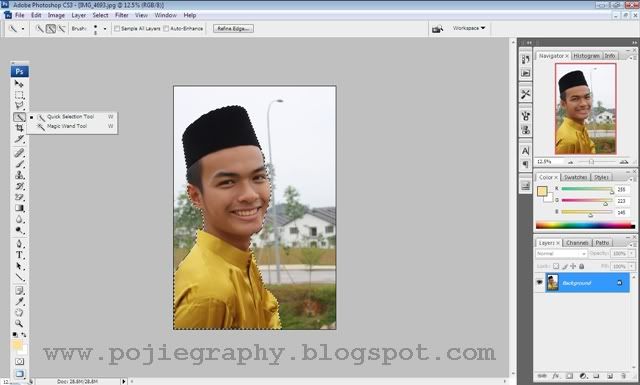 3. Untuk nak crop gambar ni, just click quick selection/magic wand tool dekat left toolbars korang ni. Simple, nanti photoshop ni akan cari angle yang korang nak secara automatik. It depends on the pixels of the pictures la. Lagi okay, lagi senang. But kalau gambar pecah, memang susah la.
After that, copy benda yang korang dah crop tu.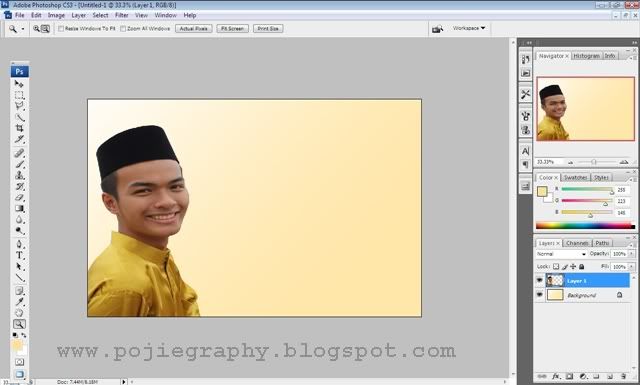 4. Paste it into the kad raya yang korang buat sebelum itu. For me, i put the yellowish gradient. (nak bagi matching dengan baju yang aku pakai dalam gambar tu)
kalau nak tambah gambar lagi. Ulang je langkah ketiga. Just take ur pictures, and crop and copy & paste it on ur card.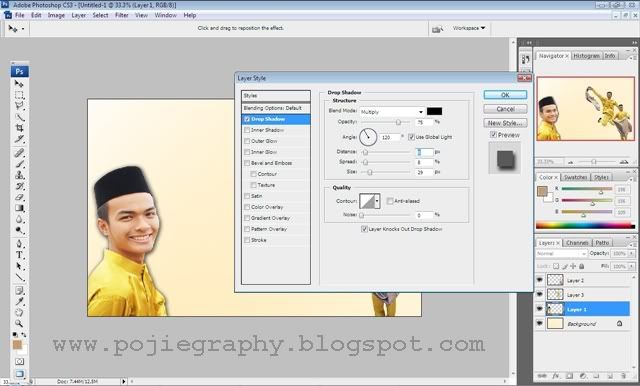 Untuk menubah posisi/bentuk/saiz gambar yang korang crop : click Edit > and press ctrl + T. Disitu korang boleh adjust gambar yang korang crop tu.
Menambahkan lagi effect menarik dekat layer yang korang crop tu, korang boleh tambah shadow effect. Click layer gambar yang korang nak > click Layer > Layer Styles > Drop Shadow
ada yang kurang? Okay, stop sebentar photoshop. Save gambar tersebut sebagai .jpeg
and then gunakan software Photoscape pula. Masukkan gambar kad korang and then
click Object & Click Balloon. Ini untuk tambah effect ala-ala bubble talk.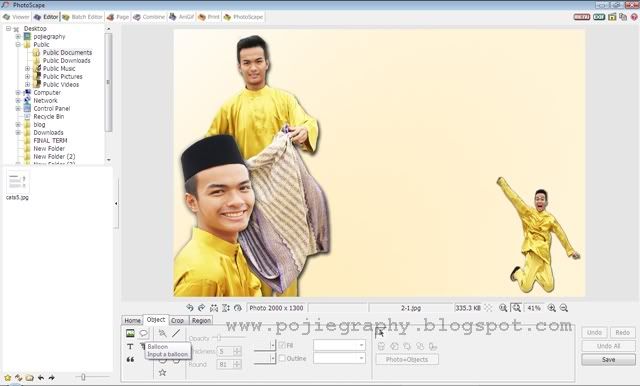 Susun je mengikut kreativiti dan kesesuaian dalam gambar ni. Make sure korang tak silap guna object yang korang pilih tu erk. Tak pasal-pasal kacau pandangan orang untuk tengok muka awak yang cun/hot meletup tu.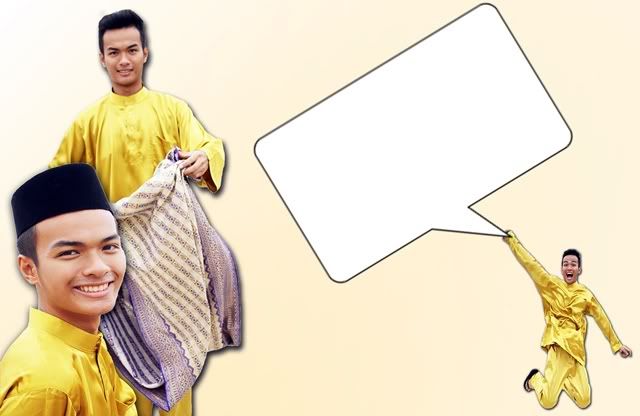 After that terpulang pada korang untuk tambah text atau tidak.
5. Drag gambar yang korang dah save berserta dengan effect baru dari photoscape tu ke Photoshop. Ini adalah untuk menambah text dekat ballon yang baru je aku letak seperti diatas tu. Guna photoshop lagi bagus. Pixel text kita tidak akan pecah. Very sharp and nice.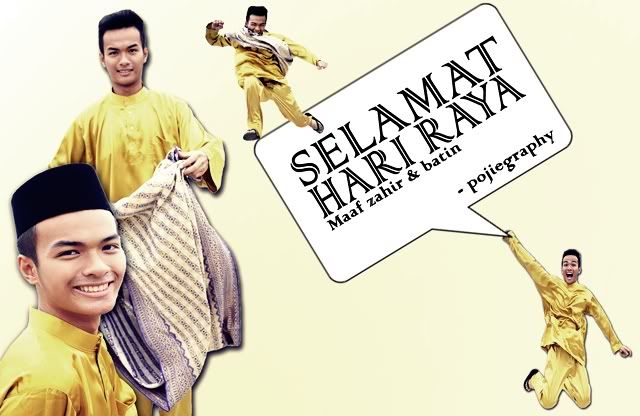 Finally, aku dapat kad raya elektronik aku sendiri. hasil rekaan dan kreativiti sendiri. Amacam? Ada baik tak? :)
TIPS TAMBAHAN :
Korang boleh juga tambah sedikit effect menarik dari photoshop.
click FILTER (melaui menu bar) > choose Artistic, Sketch dan sebagainya. Simple dan senang.
contoh-contoh effect yang korang boleh buat :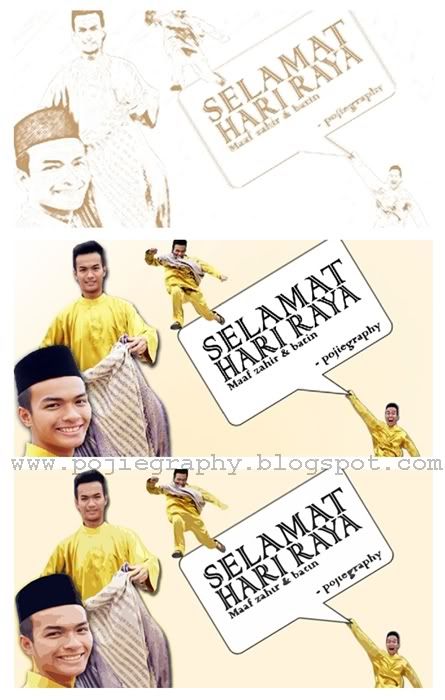 Go design yours. And post it dekat facebook/blog and twitter. SIMPLE DAN CEPAT!
Tidak lupa, juga ingin mengucapkan Selamat Menyambut hari raya aidilfitri kepada semua umat Islam diluar sana.
mood : fuh penat! baru habis packing barang.